Tags
Related Posts
Share This
Morgan, Alex
"Saving the Team" av Alex Morgan.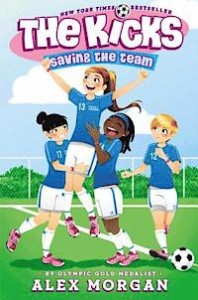 "From star soccer player and Olympic gold medalist Alex Morgan comes the New York Times bestselling first book in an empowering, fun-filled middle grade series about believing in yourself and working as a team.
Twelve-year-old Devin loves to play soccer. If she hadn't just left Connecticut to move across the country, she would have been named seventh-grade captain on her school soccer team." Förlagsinformation
Antal sidor: 169
Utg.datum: 2013-05-01
Förlag: Simon & Schuster Books for Young Readers
Illustratör: Paula Franco
ISBN: 9781442485709
Språk: Engelska
Läsålder: 8-12.