Tags
Related Posts
Share This
Meadows, Daisy
"Stacey the Soccer Fairy" av Daisy Meadows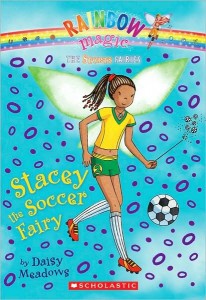 "The Sports Fairies' magical items are missing, and now the Fairy Olympics are going all wrong.
It's an exciting time in Fairyland. Everyone is getting ready for the Fairy Olympics! Rachel's favorite soccer team is ready for the big game. But Jack Frost's goblins have stolen the Sports Fairies' magic objects. Now they're threatening to take over the whole competition!" Förlagsinformation
Språk: Engelska
Antal sidor: 65
Utg.datum: 2010-04-01
Förlag: Scholastic Paperbacks
Serie: The Sports Fairies (del 2)
ISBN: 9780545202534
I serien "The Sports Fairies" ingår:
"Helena the Horse-riding Fairy" "Stacey, the Soccer Fairy", "Zoe the Skating Fairy", "Naomi the Netball Fairy", " Brittany the Basketball Fairy", "Samantha the Swimming Fairy", "Alice the Tennis Fairy", och "Gemma the Gymnastics Fairy".