Tags
Related Posts
Share This
Hudson, Cheryl & Ford, Bernette
"Bright Eyes, Brown Skin" av Cheryl Willis Hudson och Bernette Ford med illustrationer av George Ford.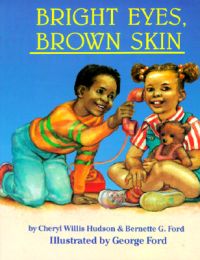 "Four children who feel good about who they are and how they look enjoy the activities of a typical day at school, happy and brimming with confidence and self-esteem. … See more details below" Förlagsinformation
"Brigt Eyes, Brown Skin" är en amerikansk klassiker. George Ford, som illustrerat, är en av de första afro-amerikanska illustratörerna i USA. "Bright Eyes, Brown skin" var den första bilderboken i USA, skriven och illustrerad av afro-amerikanska författare/ och illustratör, och också utgiven av ett afro-amerikanskt bokförlag.
Hör honom berätta här.
En svensk utgivning av "Brigt Eyes, Brown Skin" hoppas vi såklart på.
Språk: engelska
Titel: "Bright Eyes, Brown Skin"
Författare: Cheryl Hudson & Bernette Ford
Illustratör: George Cephas Ford
Läsålder: 3-6
Förlag: Just us books
Utigven: 1991
Går att beställa via Adlibris eller Amazon.