Tags
Related Posts
Share This
Freeman, Don
"Lisa och den lilla björnen Manchester" text och bild av Don Freeman, svensk text: Jadwiga P. Westrup, på engelska med titel: Corduroy.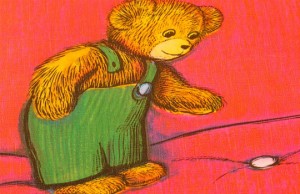 "Corduroy is a toy bear, a stuffed teddy bear in little green overalls that waits day in and day out on a department store shelf for someone to come along, he's lost a button on one of his straps but he decides to go on a mission to find his lost button, which must be somewhere in the huge store. He climbs a mountain (really an escalator) and discovers beds, which he's always wanted to sleep in. On one of the mattresses he thinks he's found his button, but he gets taken downstairs by the night watchman before he can get it. The next morning he wakes up to a wonderful surprise-someone has come back to love him, even though he still doesn't have his button." Förlagsinformation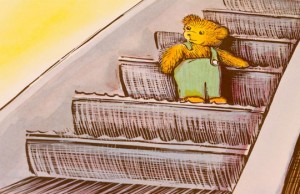 Häftad (trade paper)
Språk: Engelska eller svenska
Antal sidor: 28
Utg.datum: 1990-10-01
Förlag: Puffin Books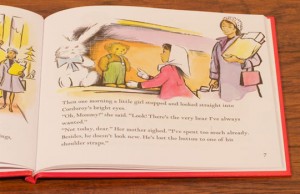 Den här bilderboken är en klassiker, tyvärr är det svårt att få tag i den på svenska idag. Den finns på ett antal universitetsbibliotek och går kanske också att gå tag i på antikvariat online. På engelska finns den att beställa, bland annat via amazon och bokus.