Tags
Related Posts
Share This
Cherry, Matthew
"Hair love" av Matthew Cherry med illustrationer av Vashti Harrison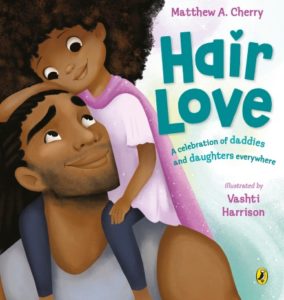 Based on the Oscar nominated short film!
It's up to Daddy to give his daughter an extra-special hair style in this story of self-confidence and the love between fathers and daughters.
Zuri knows her hair is beautiful, but it has a mind of its own!
It kinks, coils, and curls every which way. Mum always does Zuri's hair just the way she likes it – so when Daddy steps in to style it for an extra special occasion, he has a lot to learn.
But he LOVES his Zuri, and he'll do anything to make her – and her hair – happy.
Tender and empowering, Hair Love is an ode to loving your natural hair – and a celebration of daddies and daughters everywhere." Förlagsinformation
Format: Häftad
Språk: Engelska
Läsålder: 3-6 år
Antal sidor: 32
Utgivningsdatum: 2019-05-02
Förlag: Puffin books
Illustratör: Vashti Harrison
ISBN: 9780241406427
Finns även som kortfilm.