Tags
Related Posts
Share This
Abouet, Marguerite
"Akissi" av Marguerite Abouet, seriealbum med bilder av Mathieu Sapin.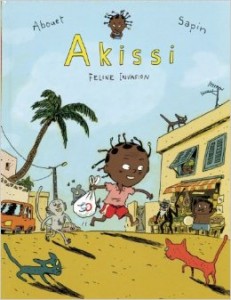 "Published in English for the very first time, this best selling French comic follows the adventures of a West African girl.
Poor Akissi! The neighbourhood cats are trying to steal her fish, her little monkey Boubou almost ends up in a frying pan and she's nothing but a pest to her older brother Fofana.
But Akissi is a true adventurer, full of silliness and mischief, and nothing will scare her for long!
The Akissi series is written by Marguerite Abouet, creator of the popular Aya comic books for adults.
Marguerite Abouet was born in Abidjan, Ivory Coast, in 1971. At the age of twelve, her parents sent her to live with her uncle in Paris in order to pursue her education. Marguerite is also the director of a charity that she created to help children in Africa get better access to books.
Mathieu Sapin was born in Dijon, France, in 1974. He studied at l'Ecole supérieure des Arts Décoratifs de Strasbourg before becoming a renowned illustrator for children's magazines and publishers in France. He's also the author of a comic for adults called Supermurgeman.
Akissi was awarded a Kirkus Star.
"Strong stomachs are a prerequisite. Even the strongest will be left both queasy and sore from laughter."
"Förlagsinformation"
Läsålder: 5-7 år
Språk: Engelska
Längd: 48 sidor
Illustratör: Mathieu Sapin
Förlag: Flying Eye Books
Utgiven: 20130602